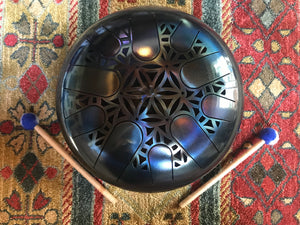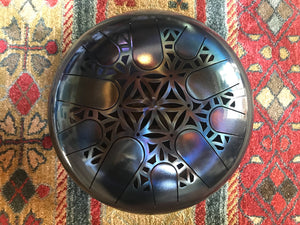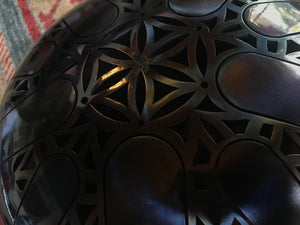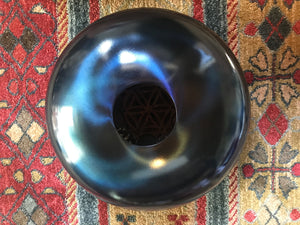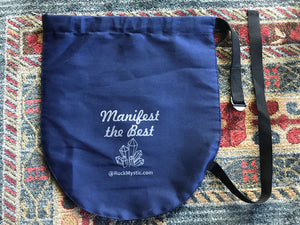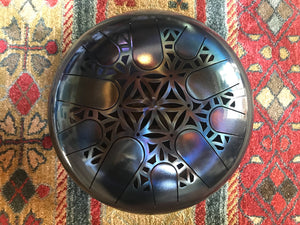 12 inch A minor 432 Hz Sacred Blue Healing Drum
This Rockmystic healing drum, also known as a glucaphone, is tuned to A minor to the scale of 432 hz, which is the golden healing ratio. It can be played with your hands or with the mallets that it comes with. We searched all over the world and came across the craftsmen of these drums with 10 years of experience making only these drums. Lucky for us, they make these custom for us and have perfected the 432 hz. The soothing vibrations and music provide healing energy to you and all listeners. It is highly recommended to play the drum in your lap or touching your body to receive ultimate euphoria from the vibrations traveling through your body and outward to the universe. It measures 12 inches in diameter.
Our journey with these drums began 2 years when I (Kelly) bought David one for his birthday. He instantly connected and it truly transformed his life. He uses the drum for meditation, sound healing, entertainment, and overall positive energy transmittance to all. As a result of our positive experience, we wanted to share these drums with you. We have never met a single person who has not loved the music that these drums create. May this drum bring you infinite peace and happiness.
Comes with a Rockmystic drum bag.
If you would like a video of this drum being played, please message us on Instagram @rockmystic or email us at rockmysticjewelry@gmail.com